Men's hairstyles come in all types and lengths. Some hairstyles are more often seen with specific hair colors. Here we will look at different men blonde hairstyles.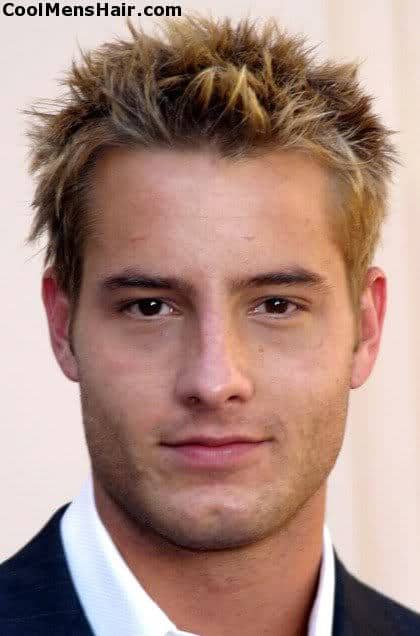 Justin Hartley spiky blonde hairstyle.
One popular blonde hairstyle for men is short
spiky style
such as that worn by Justin Hartley in the television series Smallville.
Brad Pitt wore
a similar style in the movie Fight Club.
Eminem caesar haircut
Not all short blonde hair are spiked. In fact, some blonde hairstyles are short enough to be classed as a
buzz cut
and
caesar cut
. However, most who wear their hair that short have darker hair so that they do not appear to be bald.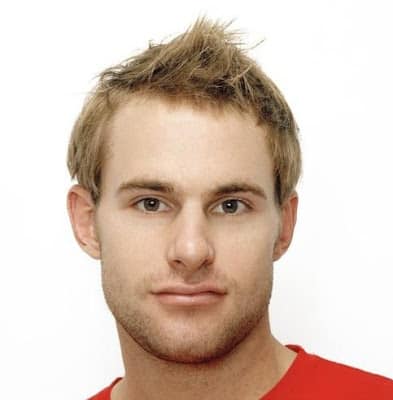 Andy Roddick faux-hawk hairstyle
Another popular blond hairstyle is the
faux hawk
. This style is based on the popular punk style known as the
Mohawk
. The primary difference is that the sides of the head are not completely shaved. Instead, the hair on the sides of the head is left short while the center stripe is allowed to grow longer and is often pulled up so that it stands out from the hair.
Ryan Hansen's surfer hairstyle
One style that is almost exclusively worn by men with blonde hair is a medium length shag worn by members of
the surfer subculture
. This hairstyle has a distinctive cut, but can be styled in different ways. One common factor is the fringe that normally covers, at least partially, one eye.
Fernando Torres blonde layered hairstyle
Some men like to let their hair grow out long. In many cases, this means simply having the hair cut in layers and wearing it with a part in the middle and the hair swept to the sides or back. Others have the hair in front and on the sides cut shorter and wear their hair in a style known as a
mullet
.
Billy's mullet hair with blonde highlight

There are many different men blonde hairstyles. Some are for short hair, some are for medium length hair, and others are for men with long blonde hair.