Alex Band hairstyle
Alex Band
is a solo musician who is better known as a member of the band The Calling. He is well-known for lending his vocal on the top 10 hit. Alex Band has to his credit his own record label and released a 5 song EP, Alex Band EP. Child of producer and director Charles Band, Alex Band has acting in his genes. And therefore, this talented youth had a short stint in films.
Born on June 8, 1981 in Los Angeles, California, He is the lead singer of the band The Calling. The single of his band "Wherever You Will Go" was a smashing international hit. Alex featured in his father's film Puppet Master II (1991) (V).Alex and his band, The Calling have two immensely successful albums and several hit singles to their name not to mention of the stupendous hit Wherever You Will Go. The single is recently awarded with a BDS Award for 800,000 spins. His music appeared in movies like Daredevil, Kate and Leopold, Love, Actually and Sweet Home Alabama while his song Our Lives featured in Clubhouse which is a television Show. This song was also played at the closing ceremony of Summer Olympics in the year 2004. Teaming up with Carlos Santana, Alex has recorded and released the single Why Don't You and I in the year 2003. Besides the singing career, Alex has acted in films like Coyote Ugly and Fish without a Bicycle. Of late, Alex Band has taken a break from the band and is concentrating on his first solo CD.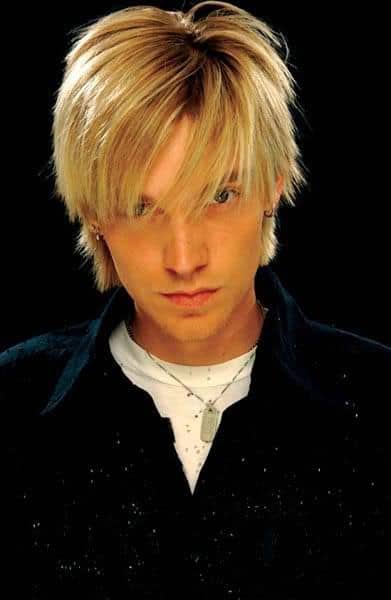 Alex Band thick blonde hairstyle
Though Alex Band kept a long hair but it seems that the hairdo didn't go to well with his fans. However, his
layered hairstyle
with middle parting impressed his fans a lot. His thick blonde layered hairdo with bangs on his forehead perfectly goes with his personality, lending him a boyish charm.
Alex Band won the heart of all from his critics to his admirers with his talent in his words and his voice. Let's hope Band continues to live up to his name and his first solo record becomes a huge hit!